The Casa Kids Campus: Where healing begins
The Casa Kids community includes homelike cottages for Casa Kids in Residential Services and space for staff to develop and deliver trauma-informed care and treatment programs and services. The Campus houses a medical healthcare suite, library, therapeutic art and music room, outdoor areas, and sports fields.
YOU are invited to be part of the plans to grow and help more kids in need. Currently, children in foster care who are in need of a higher level of care are being sent out of state.
This has to change…and we have BIG plans!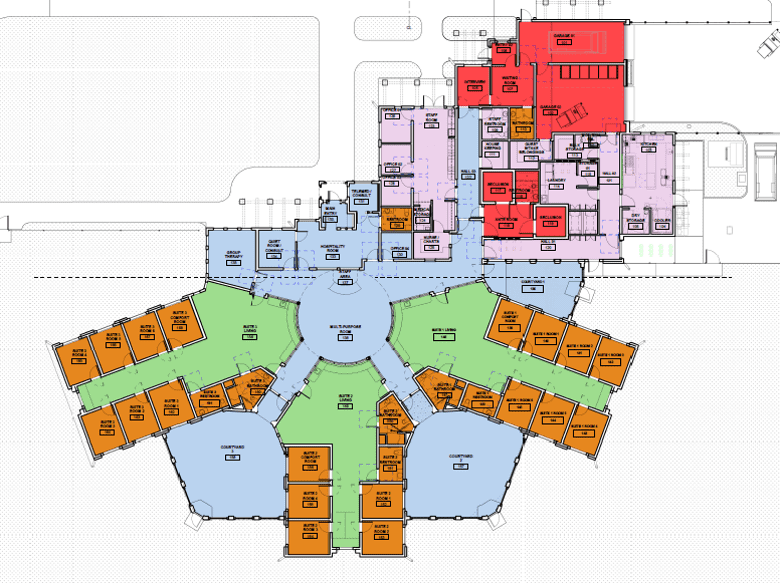 Introducing the Teen Wellness Center
Many youth in foster care have endured significant trauma including abuse, neglect and sexual exploitation. Because of this, a growing number require a higher level of emotional, mental, and physical care. To meet the needs of these children, you will support construction of the Teen Wellness Center, which will provide an environment where Casa Kids can receive intensive therapeutic treatment that they so desperately need. The home will be the only one of its kind in San Diego County and will include:
16 Private Bedrooms
Bathrooms
Comfort Rooms
Common Areas
Commercial Kitchen
Nurse's Station
Staff Offices
Backyard & Outdoor Space
Comfort rooms provide a designated space where Casa Kids learn to manage responses to the trauma they have experienced through visual, auditory, and sensory stimulation that they enjoy and select themselves.
Support Services Center – Will provide space to house equipment to maintain the organization's 11 acre campus and fleet of 15 vehicles, while securely storing over $400,000 of donated in-kind items for our children and families. The Center will also operate a centralized laundry facility that can be utilized for job training programming for our youth.
Construction
Casa de Amparo has chosen Grant General Contractors to proceed with building the Teen Wellness Center. Plans are underway to break ground in 2022 and the entire project should take a year to complete.
TOTAL CAMPAIGN GOAL: $14.0 Million for more information